Understanding the IEP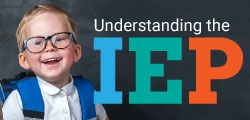 The goal of this course is to help the classroom teachers develop an understanding of Individualized Educational Programs - IEPs. During your teaching you will need to serve children with disabilities as a part of general education duties and Response to Intervention or RTI.  

****This course is being updated and will be removed in the FALL.