Dyslexia Awareness Module 2 - Removed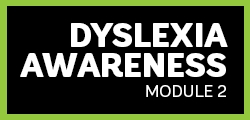 Module 2 focuses on increasing your knowledge and understanding of direct and systematic instruction, and the key principles that should guide instruction to help you implement your own intervention program.

The Dyslexia Series will be removed on August 1, 2022. We are working on updates and anticipate their release starting in Spring 2023. We apologize for any confusion.